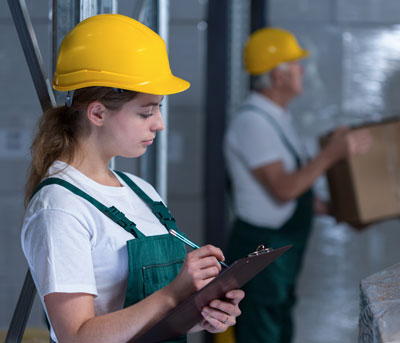 STSC Program Overview
The STSC certification is awarded to individuals who work part-time for full-time in a supervisor position whose tasks are meant to prevent harm to people in the workplace. Examples of these duties include implementing safety program compliance, investigating incidents with proper documentation, identifying hazards/health hazards and their controls, responding to environmental impacts, and knowing fire prevention and protection. Other duties could include limiting hazardous working conditions when multiple trades operate closely, leadership and motivation techniques, knowledge of hierarchy of controls, and implementing fall protection systems.
Benefit #1
Hiring Preferences and Salary Increases
Job vacancies for safety professionals commonly include BCSP credentials such as STSC as a desired or required qualification, along with the requisite education and experience. Human resources departments or those recruiting for safety positions in government organizations rely on professional certifications to confirm that minimum qualifications have been met by the candidate.
Benefit #2
Boost Your Self-Esteem
Feedback from candidates indicates that achieving a BCSP credential such as STSC can increase self-esteem and personal satisfaction. The majority of newly-certified individuals state that their personal worth increased after achieving their certification. As the standards for the STSC certification are established by peers for professional safety practice, rising above the competition by being evaluated against those standards is a great factor in increased personal satisfaction.
Benefit #3
Demonstrate Your Knowledge of Professional Safety Practice
Achieving an STSC certification from BCSP demonstrates a mastery in the core knowledge that professional safety practice requires. The Safety Salary Survey shows that by gaining their certification, candidates learned the field, showing that the STSC certification did what it was intended to do – ensuring that the necessary knowledge for practice has been gained.
Benefit #4
Gain an Advantage Over Your Peers
BCSP credentials such as STSC comply with nationally and/or internationally recognized standards; as such they are of a very high quality. Because of this, holders of the STSC certification have created an edge for themselves. Recognition of BCSP certifications such as STSC continues to grow amongst employers, government agencies, peers and the public, and as it does certified individuals hold a stronger and stronger competitive advantage for safety positions and assignments.
The Most Up-to-Date Course Available
Constantly Updated with the Latest Examination Blueprint, the ISSM STSC examination preparation course, purchased as a self-paced course, covers all five domains of the STSC exam based on the current BCSP Blueprint. These domains are Safety Program Implementation, Hazard Identification and Control, Health Hazards and Basic Industrial Hygiene, Emergency Preparedness and Management, and Leadership, Communication and Training.
Enroll in this Course
This combination of options is not available