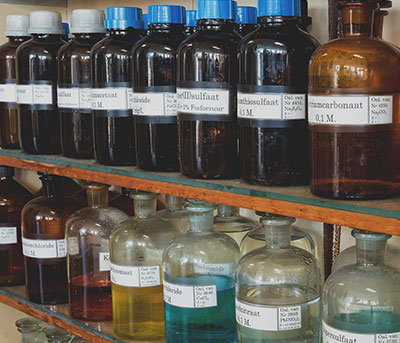 CHMM Program Overview
A Certified Hazardous Materials Manager (CHMM) handles, manages, or provides advice to other on hazardous materials, or situations that can involve or include these materials. A CHMM is able to perform such roles in a variety of organizations such as corporations, businesses or government. They can also work in related fields that are associated with hazardous materials such as environmental protection, security, the transportation of materials, or safety. Whenever a scenario involves hazardous materials, a certified CHMM professional can provide advice on the proper handling and management to ensure safety and compliance.
Benefit #1
Increased Salary
Individuals holding an IHMM certification such as CHMM enjoy enhanced earning power. The median annual base salary for certified individuals is around 20% greater than that for workers with no certification. Furthermore, an experienced certification holder can enjoy a 10% higher salary than a professional with the same experience but no certification.
Benefit #2
Boost Your Career
The CHMM certification from IHMM recognizes your expertise and your commitment to public safety and the environment. This can open up new possibilities for you to make a difference to public health and safety, the environment, your community, and your country.
Benefit #3
Recognition of Your Knowledge
The CHMM certification acknowledges that an individual has been assessed on their knowledge, skills and abilities and demonstrates that the holder has the competency to perform the functions of the profession. This results in recognition from employers and peers, as well as earning and enhancing trust from members of the public.
Prepare for your CHMM exam
and

earn CEUs


The Most Full-Featured and Best Value Course Available
The ISSM CHMM self-paced course is a web-based form of a CD-ROM program used by hundreds of candidates to successfully prepare for the Institute of Hazardous Materials Management (IHMM) CHMM exam. The CDs have been distributed by the American Society of Safety Engineers since 2006.
Customize Your Course
Online Course
According to the Institute of Hazardous Materials Management (IHMM), candidates need to be familiar with relevant laws and regulations, relevant scientific principles and their application, and best management practices. This self-paced interactive course, which is updated based on the content of the current IHMM blueprint, covers selected EPA, OSHA, and DOT regulations, basic chemistry and scientific principles and their application, and management practices as they relate to hazardous materials management.
Study sessions provide comprehensive coverage of the technical subject areas of each domain of the examination. Now with over 600 review questions and answers, you can take short quizzes to evaluate your knowledge of each subject area and comprehensive tests that cover all subject areas. The results of all tests and quizzes are saved and demonstrated graphically so you can monitor your learning objectives.
2.0 CEUs
Earn 2.0 CEUs while preparing for your exam! If you add this option to your enrollment, after you spend a minimum of 20 hours studying and score 60% or higher on at least one comprehensive test you will qualify for 2.0 CEUs, certified by the Florida Institute of Technology.
This combination of options is not available