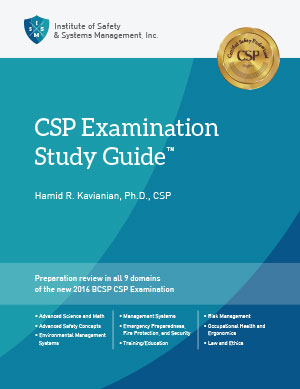 The CSP Examination Study Guide™ textbook which has been distributed by the American Society of Safety Engineers since 1996 has been used successfully by hundreds of candidates to prepare for the BCSP CSP certification exam. New questions have been added in all nine Domains:
Domain 1: Advanced Science and Math
Domain 2: Management Systems
Domain 3: Risk Management
Domain 4: Advanced Safety Concepts
Domain 5: Emergency Preparedness, Fire Protection, and Security
Domain 6: Occupational Health and Ergonomics
Domain 7: Environmental Management Systems
Domain 8: Training/Education
Domain 9: Law and Ethics
All of the Guide's more than 850 questions have been developed to reflect the type of questions generally found on the examination based on the BCSP's blueprint for the comprehensive examination. All questions were independently reviewed not only for accuracy, but for level of difficulty and appropriateness as well.