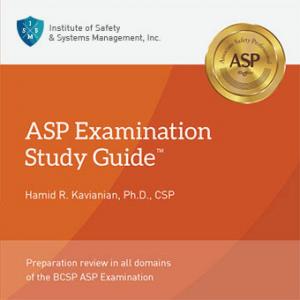 The new version of the ASP Comprehensive Examination Study Guide, prepares candidates in all Domains of the expanded Board of Certified Safety Professionals' 2015 Safety Fundamentals Examination. The new examination is now comprised of seven Domains:
Mathematics
Safety Management Systems
Ergonomics
Fire Prevention and Protection
Occupational Health
Environmental Management
Training
Education
Communication
The Study Guide includes study sessions, quizzes, and comprehensive exam. Test questions are selected randomly for each session from more more than 800 on the cd-rom, and all test sessions include a timer. After completing the comprehensive examination, the program provides a report showing the number of questions answered correctly in each of the Domains. Or, you can bookmark questions to create your own study session, and turn solutions for computational questions on or off. And a new zoom feature allows you to change the text to the size that is best for you. Quickly identify the subjects you need to study and make the best use of your time where and when you want to study!